?What do we know about English writing techniques

Have you ever felt like there were certain books that you loved more than others, because your connection with the world it produced was amazing? That was because in writing there are multiple issues that make content stand out from the rest. Writing techniques can help establish firm grounds in both writing as well as reading. Knowing them helps you look for traits that tell you what you can expect from reading a book and when you write, the knowledge guides you in writing a good piece that is worth reading. Below is a list of five techniques that help form a truly amazing story, through which readers can engage and relate to characters.
The first technique is keen on the experiences that are described, such as sounds, situations, feelings, moods, and even tastes. This technique is called stimulation of multiple senses. This technique focuses on descriptions and details that make up the mood that is needed in order to create a complete world inside a book. A second technique has to do with the quality in development of characters. Fact of the matter is that in order to consider any book a good one, it needs to have characters that are developed well. Hero or villain, characters have to be so real, readers can sympathize with them or despise them perfectly. This needs a well-developed set of characters that help us connect to stories and sink in them. The third technique is designed to arouse strong emotions in readers. For example, little bits of detail that reveal themselves in-between the main story line can arouse suspense by sharing information that readers gain in order to get a sense of surprise. When playing with the readers' feelings, the writer can really establish a sense of excitement that can make a difference between a good book and a great book. The Third must in writing and reading a good book is to look for the voice and distinct tone of voices, whether they belong to the main characters or that of the narrator's. Making the reader engage the action, when writing or being dragged into the story is technique number five. All of what has been said earlier is important, but both as a reader and a writer, we all need action that fully grab our attention through scenes that are simply thrilling. Nothing brings a reader right to the center of a story better than an action scene.
Remember that a good book to read is one that takes the reader to another period of time and place. Such books hold characters we care about dearly and engage the audience like nothing else. If you want to write, always consider this great metaphor. Just like a tiger is the product of the food it eats in the jungle, a good writer is a product of the books he or she has read. So before you start writing, make sure you have read great books and not only that, you have read lots of them too.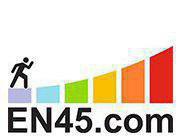 آموزش آنلاین زبان انگلیسی EN45.com
---